Using the latest equipment and technology, Steve's Tees produces orders ranging in size from a dozen to thousands of pieces. Our three automatic screenprinting presses can print up to ten colors, and our two manual presses can print smaller–scale jobs such as team uniforms and event apparel. We are especially proud of our M&R print equipment–the "Cadillac" of screenprinting machines in the industry. Steve's T's also has 16–heads capable of embroidering up to 15 colors. For added convenience, Steve's T's has a packaging machine that folds and bags any product for retail presentation. With their slew of modern equipment, Steve's T's & Uniforms efficiently serves the logoed apparel needs of everyone from local organizations to national resellers.
Graphic design services are provided for customers through Steve's T's for your convenience. Whether you don't know exactly what you're looking for or just need your artwork tweaked, Steve's T's designers can help you.
The team of designers, artists and technicians are all highly educated, experienced and skilled in their trades. Together, they have proudly completed work orders for many large corporations and organizations such as Glaxo Smith Kline, Kioti Tractor, BB&T Bank, NC State University, Peace College, Pack Rat Movable Storage, Pecan Grove Marina, Novozymes, Nomaco, NC Wildlife Commission, Nash Co. Sheriffs Department, Mercedes, Embarq, Centex Homes and many others.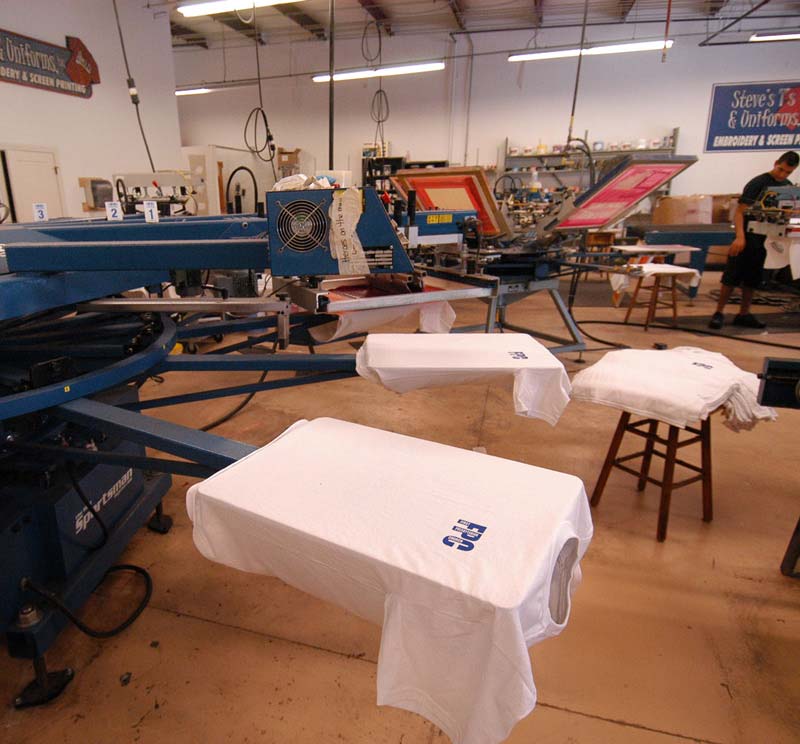 OUR MISSION
Steve's T's & Uniforms' primary goal is to provide quality apparel screenprinting and embroidery using state–of–the–art techniques and equipment. We fill all orders in–house so that we can offer customers the best prices on quality products with efficient turnaround.
Can screenprint up to 10 colors
Can embroider up to 15 colors
Artists and technicians are all highly educated
Large quantity order discounts
PORTFOLIO
Steve's T's & Uniforms prides itself on supplying the best logoed apparel available. With strong foundations in screenprinting and embroidery and knowledge of the most up–to–date industry trends, Steve's Tees can produce anything from classic logoed apparel to unique, one–of–a kind apparel pieces for your needs. Our team prides itself on utilizing special purpose inks, trendy colors, radical design styles and non–traditional print locations to turn any idea into an awesome, buzz–worthy piece of apparel.