It all started out as a teen hungry for a part–time job…
Steve Davis, the president of Steve's T's, wandered into the screenprinting industry as a teen and has racked up over 24 years of experience since. Earning more responsibility and confidence as time passed, Steve started working with art, burning screens and finally printing jobs.
After high school Steve attended Appalachian State University by day while running the second shift of a screen–printing shop by night. After four years of college and managing the shop, he graduated with a bachelor of science degree in communications and moved home to, once again, work for a screenprinting shop. He managed the shop for nine years, performing all duties necessary to run the shop efficiently and with excellence.
…and has evolved into Steve's T's & Uniforms: Custom Embroidery & Screenprinting.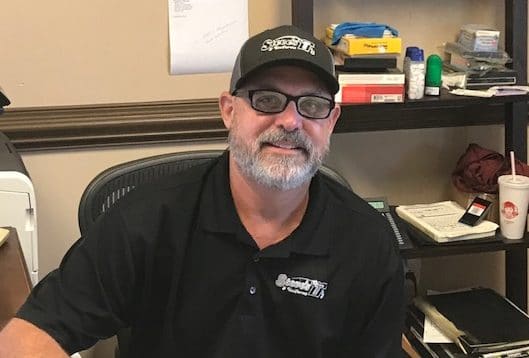 Steve decided it was time to give it a shot on his own and opened his own small business in 2000. In the beginning, the shop was very small with a 6–color manual screenprinting press and a 6–head embroidery machine. The early days consisted of Steve trying to get the business off the ground by promoting Steve's T's products and services; his nights were spent printing and embroidering to get the jobs out on time.
After a year, Steve's T's & Uniforms moved to our current, larger facility near Raleigh, NC and hired more technicians. Adding more machines on a regular basis, we were well on our way to what is now a production factory for screenprinted and embroidered apparel with state–of–the–art equipment and art design services. With our resources, Steve's T's has the flexibility to fulfill orders for anyone from a local sports team to national corporate resellers.
Founder Steve Davis and the rest of the Steve's T's team are committed to quality, efficient work and customer satisfaction.
Brian Apple, Manager
Overseeing daily operations is Brian Apple, who has been with Steve's T's & Uniforms from the start. Customers rely on Brian to organize and supervise all of their screenprinting or embroidery projects. From coordinating the design, choosing apparel and supervising production, Brian works diligently to ensure that customers receive superior logoed products in a timely manner. With a bachelor of science degree from East Carolina University, years of experience in every area of the industry and a love for working on diverse projects, Brian's goal is to always maintain excellence in all jobs completed by his team at Steve's Tees.
Wendy Huggins, Embroidery Technician
Technician Wendy Huggins has 15+ years of experience completing custom embroidery designs. She enjoys the challenge occasionally presented by custom jobs, and loves working with the equipment to produce personalized logoed apparel that is exactly what the customer is looking for. With Wendy's expertise, Steve's T's & Uniforms is often able to complete embroidery work that other shops cannot.