Submit your design
Embroidery
A process using needlework and thread to decorate apparel–can be an alternative to screenprinting for companies or groups seeking an updated or polished, professional look. Steve's T's makes it affordable for organizations small and large to customize a wide variety of apparel with their logo or original artwork.
Steve's T's has
Twenty eight SWF embroidery heads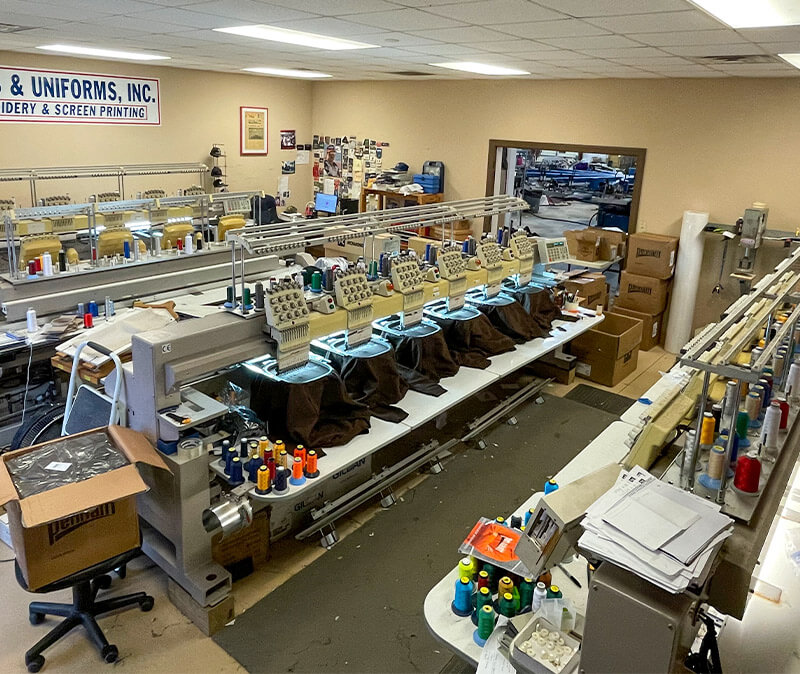 with the capacity to embroider up to 15 colors. Our 5 SWF embroidery machines operate as traditional embroidery machines to handle large and small orders with amazing efficiency and speed.
The versatility of these machines allows us to optimize their output, resulting in swifter turn around times for our clients. With our state–of–the–art folding and bagging machines, customers can leave with products ready for re–sale.
We offer a variety of apparel for embroidery. Please view our online catalogs to choose your items. If desired, customers can provide their own items for embroidery. Please contact Steve's Tees for pricing.
As with most embroiderers, Steve's T's has a reservoir of stock images for you to choose from, you can provide your own artwork or you can collaborate with our artists to create custom t-shirt designs. The first hour of art services are complimentary. Visit our artwork page for more information.

For custom designs or logos specific to you or your business, it is necessary to digitize your design (convert the file to stitches) the first time it is used for embroidery. Digitizing of custom designs/logos is not handled by Steve's Tees, but a reputable third party, which turns your design into a file format suitable for embroidering. Additional fees for digitizing are typically charged at a flat rate of $35.00 per design. This is a one–time charge that will apply only to the first order. Please contact us for more information.
For larger commercial jobs and resellers, we offer large quantity order discounts–still with efficient turnaround time. Folding and packaging services are also available.
Brands
Brands & Catelogs to Choose From
Minimum Quantities:
Embroidery requires a 12–piece initial order and 6 piece re–orders.
We offer discounts on large quantity orders, with price breaks at 24, 36, 48, 72, 144, 288, 576 and 1000 piece orders.
Customers can provide materials for screenprinting or embroidery.
For pricing or advice on choosing the right garments for your needs, contact us.